The Spiritual Bat, Sullen Serenade, and Beryl Beloved w/ DJ Katastrophy

Friday, July 23rd, 2010
TRACKS (in Heaven Lounge)
Doors at 8:00, Showtime 9:00
21 & up with valid ID
Tickets are $10 at the door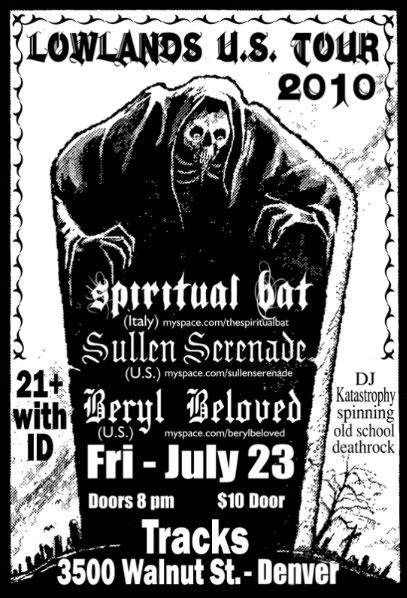 This show was almost finished with once the original venue (The Roxy) fell through. So now that it's still here, how can you miss it?!
The Bats are the same critically-acclaimed deathrock band who opened for Rozz Williams' Daucus Karota more than a decade ago, and Sullen Serende from TX are seeped in tribal, ambient sounds w/ DCD-type influences. Beryl Beloved is local, churning out post-punk and old-school in the same tradition of Bauhaus, The Sisters, Siouxsie, the March Violets, et al. We'll have a huge amount of merch available for the night.
Hope you can make it! This is going to be an intense night of local, national, and international music, with DJ Katastrophy spinning before the bands take the stage.
The Spiritual Bat = Deathrock, Old-School Goth
Sullen Serenade = Tribal Ambient gothic (with Dead Can Dance influences) + belly dancer Saz'hrah
Beryl Beloved = Post-Punk, Old-School Goth
_______________________________________
http://www.myspace.com/thespiritualbat

http://www.myspace.com/sullenserenade

http://www.myspace.com/berylbeloved

(
Collapse
)